"Now Go and Get Your Books Little Duffel Bag Girl".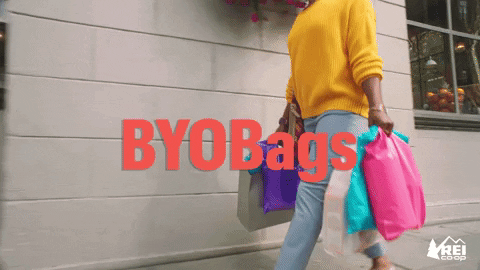 I want to summarize a book I read titled, "You Are a Badass: How To Stop Doubting Your Greatness And Start Living An Awesome Life" by Jen Sincero. I enjoyed the reading and the title was inspiring to my life! I liked her discussion on temporary role models. For me temporary role models are important because of some of the commentary that comes from people's blind spots. There are people who would want to make comments about spelling errors and I wonder if they have ever read through a textbook any reading material. There are things printed and used that happen to have spelling errors. Clearly there is an improvement that will be made. People who participate collectively know this. There is no way someone who has graduated from college should find it abnormal to a spelling error in a recommended text. This means they did not read. The comment is awkward to make at a certain level of participation. I liked how she stated, "most answers reveal themselves through doing, not thinking".  One thing that made me giggle is where she mentioned that she does things to force herself to bathe, dress and leave the house. This is important to note, as a reader who does these things out of excitement and leaves the house out of excitement as well. I wondered if the author was being sarcastic or stating the sarcastic truth. I also was intrigued by when she discussed, "erasing the other person from the equation" and "eliminate the process of negotiation". I agree and embody these statements without words or with others constructions of the same sentence. Three quotes that stood out to me included, "Your faith in the universe must be stronger than your fear of not getting what you want." Also "new level, new devil" and "You have to keep the faith, always, even when your ass is on the line". Being a Badass is great. I am really going to activate the power of stopping self-doubt. No matter what obstacles I have faced in my life, I know I can always shimmer and shine.
Do not deny yourself the life you live! All of this is making me think of how sometimes I get judged and critiqued by things that are common place in my society. I laughed at an experience I had recently in the workplace when I did not want a trash can in my office space. I am removing a lot of things from "my space" that are placed there by other people. Yes, I would rather throw my "trash" out in another location and keep the entire thought separate. This is coming from someone who chooses a small "Lysol on the Go" to help with damage caused by others. This is explicit and not implied. I remove he trash cans just like I remove the fact that I grew up with HBO on the television in my room. No, I cannot control what happens when I wake up after 10 and see boobies. I also am growing up where people check boxes for me about my race and gender. I am also aware that I keep putting the trash can out of my space and it returns and I do it again. I am also aware that there is a person who knows they put people on crack before I was born and that those type of people will always question why I wouldn't want a trash can in my space. I know to listen to hidden messages from that person and start to show up with gloves, a face mask and something to clean the trash can and still keep putting it out my space. This person is somewhere applauding the special feature of resistance and will challenge me discretely to the death. There is an importance of knowing that someone will send love, support, condolences, alternative and be very unapologetic. Growing up with the news on television sometimes makes people not realize the detail and danger that went into compiling or knowing the information in detail and how shared the information is before going on "air". There are also all types of self-defenses and protectors. Some people report like the news instead of share information or think that the spreading and sharing of information shouldn't be happening whether the news is on. They also might want to read the newspaper. There is a guy who has died and no one reported it or he was on television as a criminal and he would wish that the story of why he was "balding" could come out. The ability to see the news channel might block his ability to realize he should be sharing and learning. This person would probably stop eating and scheduling like the lunch lady is going to put out trays. If you are having a delusion because there is a news network tells somebody something today, it could save lives. No one wants to get fought at because someone forgot to share from their visible position of authority that people are serious about reducing the use of plastic and that you should use your glassware. There is an eye roll that comes with having a duffle bag or large pocketbook and not noticing you do not have to leave with a plastic bag from a location. There is this weird thing that some people do from being involved in the school day. They think that janitors and plumbers will be taking care of things in their life. They pay for things where they shouldn't or plan for others as an added expense. Then they just sit and want money. Especially of they did not realize to listen and learn. There are people who have chosen to be cripple, that is their choice. If you understand what a devil is and what it means to fight against your demons many people would not question why in my life, my advice is to learn, get stronger and get better. In present day some of our devils and demons are passing us their "practice tapes". There are people who are born into access in society who cannot see that their birth mothers have no idea why they came from their wombs and lack the ability to use words or fail to develop language. Some of them are looking at their male sons who they consider themselves having committed murder to by agreeing to circumcision, keep failing, avoiding and giving up every opportunity for success. They would not know that in the day it would need to be explained or that the person has so much "access" or exposure to educated birthers that they think that the birth mother knows they are a mother or that they should explain that they are publicly displaying that the word they are using is "murder". It would be as hard to see this detail as it would be hard to know that there is a "crack man" and harder to know that the "crack man" would slap the child if they ever saw them do a particular thing. There are people cutting themselves off from their safety and their comprehension might make themselves overlook what is actually happening and by who. There are mothers who have already spoken and men and boys who do not know there are people looking at them because at birth their mother committed to their murders as soon as they could see and comprehend scissors. Some people are neglecting and avoiding those who aimed to provide and sustain them with life. They most likely have reached levels of treason by the time someone would give them this information. Normalized is different than normal. I do not have the confusion spot about what education and religion is for.
This is a struggle for a mother who has to live with what has been normalized or confused as anything outside of a mother consenting to "murder" knowingly or unknowingly. Knowingly is probably the worst of the worst. I will always protect my son from the confusion of what some experience as a normalized practice. I would encourage mothers who have made that commitment to speak and self-advocate if they are in a situation that makes it seem like that is not the case when it is. If you have that concern spot as to why does this person keep wanting to connect and dismissing what is supporting him it may be because the comprehension level needs to hear the word if you can articulate it. It should also be noted that not all women will respond with sexual favors and may make you feel challenged. I would suggest that treason be the ultimate thing to avoid because it most likely is not purposeful, it stems from the distortion. A mother who has done that would probably not understand why you cannot read this in the entirety. They would not understand what else it is you would be doing. It would also be hard for people to understand how men and boys who are already listed as having being "murdered" by their mothers would think someone would care about an attack on someone having a cavity. Meaning they have spending money for candy. That is the message. It can be hard for sisters and family who go to protect what someone else has sought to murder and watch them miss the message and everything they passed up to sustain a life. I guess this is also where I mention I have a hard time realzing how long it takes for some people to understand what murder is and that some people never will.  #PayAttention
Please reload