Did Anyone See The Boss Necklaces On Sale In the Avon Catalog?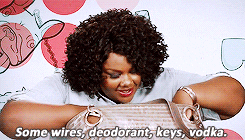 Often times there are things I will not say to insult people because people in my life have had "the" experience. I also encourage people to pay attention to some of the things they do. Some people cannot see when they are forcing someone to brag about their fertility around people who have infertility stories, success with sexual relationships around people who have been raped or sharing in spaces about a free anti-theft service they received in from of a person who has been or is being robbed. Knowing language or terminology might make people sit through scenarios and not know how to interact properly. I also notice people want to make comments about how something I do can seem like a prostitute. What they actually mean to say is that there are people who prostitute to get things I have naturally and earned in my lifestyle. They really need to work on not confusing the two. It is also hard knowing that there are people who have received C-Sections because a person wants to use them for sexual activity and does not want to wait. Many people do not know this can occur. It is hard for some new moms who have people around them who have survived these circumstances to often times live and pursue their motherhood in peace because of misconceptions and confused behaviors and mannerisms. Often from copying others or watching television. I am often irritated when I have to articulate this, when another person could have completely avoided coming into my area. I made a joke to someone about how music videos keeps making people include me in a dream or goal they have and I often get fat or sleep because I am trying to talk about "Polly Pockets and Photosynthesis". I can appear to be confused, when in all actuality I am living through the backhanded compliment. Either way my insults will sound scientific and tell someone that they got diagnosed with a terminal illness because they could not see that the dude they keep trying to kiss doesn't read well or know how to explain harassment but they can conceptualize jail for a violent reaction, which might be the only thing they can think of beside getting annoyed. Last but not least there really needs to be a safe space for young boys and men who have had relatives incarcerated and do not understand their behavior or some of the things that go on in there. They may develop very harsh behavior, sexually disruptive behaviors that comes from captivity and literally miss out on their entire life and all the opportunities people are giving to them. They also often have all the indicators of success and will do something like ask ME, after interacting with me and seeing what I do, why I spend (waste) time blogging or why I would take interest in a guy (white) who was doing this when I was in graduate school (why go?). The entire interaction falls apart because it is almost like they ask these questions while you are checking books out at a library or paying a fine after they sat with you at the library or work/live in an environment that requires books. I also get asked this weird question about why the young people I work with or have in the past do not fight me like they fight against some of my fellow youth and community workers. Mostly because I know to read, write and have the information for them even if they have a F in reading, skipped science but still want to know about this ingrown pubic hair and yes they want the word pubic included. I also do not skimp out on the information about how E&J can help cure a cold. Yes, they can still swing by if they steal liquor from their uncles fridge because they did not have money to clear their cold. There are well meaning citizens who expect, rely on and equally participate in community building in the way they know how. There is nothing funnier than knowing to have smell good lotion, so my young people say "when I get some money I'm going to get that". The visual elements of knowing how to look up to someone and knowing that it is cool that I go to the writers group with skilled writers and not try to make it look like a music video with people writing in notebooks, "ummmm the blacker the berry, the sweeter juice". Yes, kids want the person selling them sneakers to have hand sanitizer so they do not get cooties in case their house ran out of soap and toilet tissue. #ViceVersa It is important to teach people to throw out old deodorant and also pay attention to giving it away or using it before it gets old. I also noticed necklaces that said "boss" in cursive on them on sale for $2.99 in the Avon booklet for this season. 
Please reload
I'm busy working on my blog posts. Watch this space!
Please reload