My Lip Gloss Is Glistening!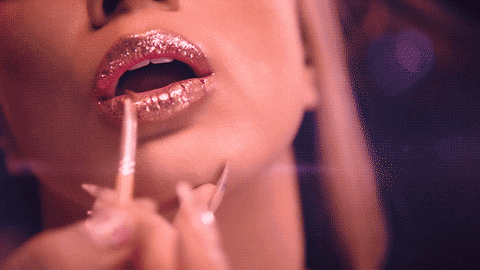 I was watching Disney Junior with my son and made a joke in my head about something I realized in the moment. When I see Disney, my mind reads Mickey Mouse. I even went to Disney World as a child and Mickey Mouse is all I could think of. This rapid thought can cause me to miss out or forget to showcase that I am excited for overall experiences or continuously highlight one aspect of a relationship I have had with an individual. I am starting to think that when I see McDonalds, my mind reads chicken nuggets or happy meal.
So I've been "getting good" at deciding and I am happy to read the words from Jen Sincero about how deciding literally means cutting something off. I am big on definitions and that can be troubling to some. I have learned to make a definite decision about people, even if I "have to" share the same space with them. As in the same  way someone cannot vote if they are not registered is the same level of interaction or expectation I should have from a person in the same metaphorical situations. There are some people who will not have spending money for food, unless someone else is treating. There are some people who will not be in good health to perform a task or duty. There is also a time when you learn that in all essence if said person cannot perform a particular duty that is required they most likely should not be the beneficiary of your contribution to such things. I have received spiritual messages about things I am not included in. I have learned to applaud myself because what some people cannot hear themselves proclaiming is that they will not be including health, wellness, spiritual prosperity, growth and education. No, I will not be offended or hurt by someone who does not know to calculate in two week increments or a yearlong salary when making decisions that involve expenditures. As I progress in my career development, I have sweats suits, outfits for church, something that can be worn to a meeting or event, supplies to do whatever my resume or lifestyle says I can do and cleaning supplies for my body and environment. As in if the lights get cut off I have candles and I also know they can be used in advance to reduce the electricity bill, consumption, global economics, construction and death by (fill in the blank).
I have learned that "hello" is a compact word. Many people do not realize that if they had to break down the word hello, they would not want the word within their life to be void of meaning. I am also thinking about how in certain parts of society and industry lip gloss is as essential as toilet paper, and "an extra one should be within reach." Yes, there are rules around toilet paper even if you just know to use it because it is there. Toilet paper rules teach how to sustain even if it wasn't there, I am quite sure of this. There is this thing about "negative chatter" that starts in our minds. This can be of our own fruition or from things that have resonated about what other people have said or inferred within our lives. One of life's most powerful questions to me is "who do you seek to have partnership with". I remember something being said by a woman who worked at a school that I facilitated a youth leadership group for. The woman said that an activity she does is to have girls write a list of all the qualities they want in someone and then go down the list and check off all the ones that apply to who they are. I am going to do this tonight and create some positive affirmations worth repeating!
Please reload